Jeff Swinehart has been the Chief Operating Officer of Lancaster Farmland Trust since 2019. Prior to this role he served as the Trust's Deputy Director since 2006. With 18 years of land trust experience, Jeff focuses upon the preservation of Lancaster County's agricultural land resources principally through the acquisition and stewardship of conservation easements. He has expertise in easement acquisition and defense, stewardship, water quality initiatives, grant management, and outreach to culturally diverse communities.
During his tenure, Jeff and his team have built Lancaster Farmland Trust's easement portfolio to nearly 500 easements and 30,000 acres, which is the largest easement portfolio in Pennsylvania. He is also responsible for supervision of the Trust's Stewardship and Municipal Outreach programs, and is actively engaged in the fundraising, general administration, strategic planning and community relations efforts of the Trust.
Jeff is a member of the Pennsylvania Land Trust Association Board and Policy Committee, serves as Vice-Chairman of the Manheim Township Planning Commission, and is a member of the Executive Committee of the Lancaster Clean Water Partners.
Jeff graduated with a Master's degree in Public Administration from the Pennsylvania State University and has a Bachelor of Science Degree in Geography, plus minors in Geology and Regional Planning from Mansfield University.
As a lifelong resident of Lancaster County, Jeff spent his childhood in the southern end of the county enjoying the rural way of life and working on a family owned dairy farm. He currently resides in suburban Manheim Township with his wife and two children.  Jeff enjoys hunting, fishing, gardening, preparing gourmet meals, be active in his son's Cub Scout Pack, and visiting family in northern PA and the Finger Lakes region of NY.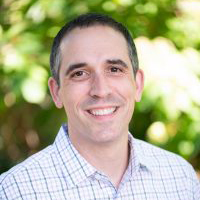 Jeff Swinehart
Lancaster Farmland Trust