After over forty years in banking as an information technology manager, Stephanie Lower is nearing retirement and looking forward to spending more time outdoors instead of behind her computer, doing what she can do to aid in the healing of our environment.
Outdoor enthusiasm began early in her childhood where she spent summers camping as a Girl Scout, playing in the Conestoga River near her home and Pine Creek near her extended family's mountain getaway. As a fourth generation native Susquehannock Indian, she has always had a strong connection to the water and land of and around the Susquehanna River. Stephanie became a York County Certified Master Watershed Steward with the Penn State Extension in 2019 and has logged over 750 volunteer hours since. That same year she was certified as a Creation Care Ambassador with the Evangelical Lutheran Church of America. Following that, in 2020, she formed a Creation Care team at her own church, Good Shepherd Lutheran Church, Lancaster PA. The team is a partner congregation with Interfaith Partners for the Chesapeake (IPC) and all members have completed Faithful Green Leader training. Stephanie sits on the Lancaster IPC task force and is also a mentor for other partner Congregations.
Most recently, she organized "Susquehanna Summit: A Day of Creation Care Collaboration" sponsored by Good Shepherd, the Lower Susquehanna Synod, IPC, Lancaster Clean Water Partners and the Lancaster County Community foundation. 
Interest in the Lancaster Watershed Leadership Academy began as a way to expand her knowledge of watersheds and watershed management. It seemed to be the perfect opportunity to combine her prior management experience with her passion for clean water sustainability and to build a strong, collaborative network of partners working together towards that goal. When Stephanie isn't volunteering or working, she can be found gardening and relaxing in her backyard: a certified Wildlife Habitat, where she enjoys observing metamorphosis in her frogs and monarch butterflies. She also enjoys nature photography, geocaching, hiking and kayaking.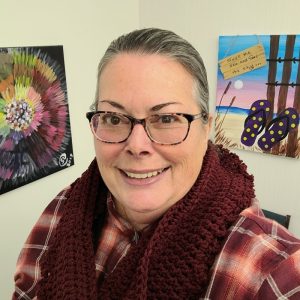 Stepanie Lower
IT Business Services Associate Manager, Fulton Fiancial Corporation