Spring Hill Park Basin Retrofit Creates an Opportunity for Watershed Leadership Academy Scholars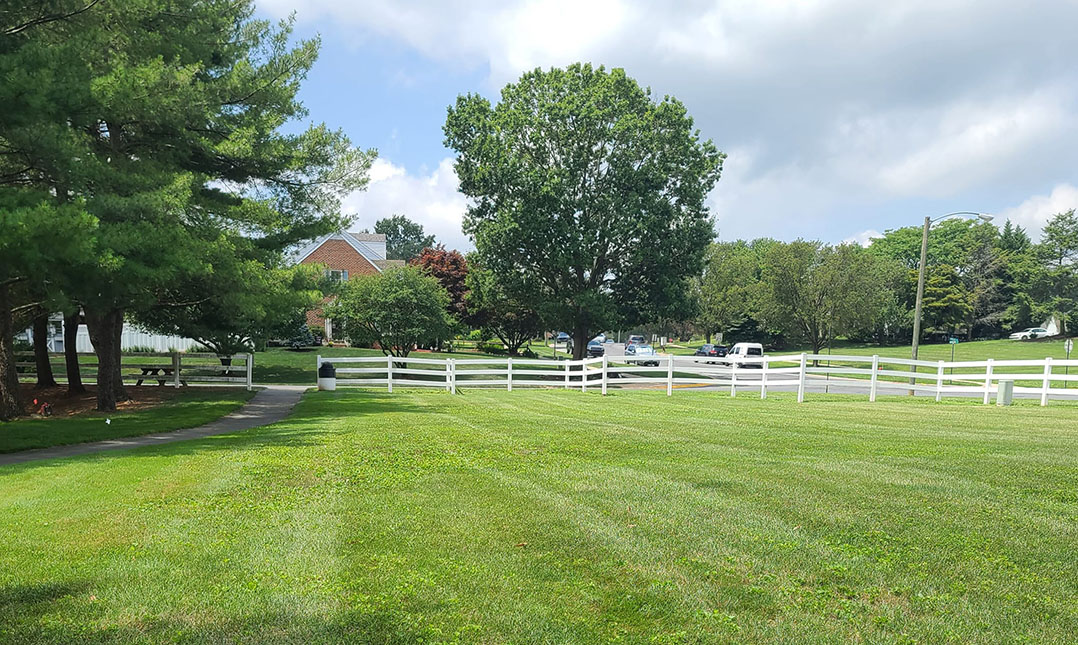 You sometimes don't have to travel far to find a way to improve our local waterways.  For Stephanie Lower, an IT Business Services Associate Manager at Fulton Financial Corporation, it was literally in her back yard.  Spring Hill Park, in Mountville Borough has been part of her walking route for decades and has an impaired stream running through it.  Prone to flooding, the stream banks were badly eroding.  Stephanie wished she could do something about it, but wasn't sure how.
"We have lived by this park for over twenty years and walked it with my son and dog many times over the years," she said.  "Every time I walked it, I would think of all the potential even before knowing anything about watersheds."
Then she became a part of the Lancaster Watershed Leadership Academy class of 2023.  The Academy is a bi-annual program that supports the personal leadership development of individuals involved in the collective effort for clean water in Lancaster County. The twelve-month program is jam-packed with watershed content, field investigations, professional leadership content, and an overnight retreat on the Chesapeake Bay.  It also includes a project for completion of the Academy curriculum.  Stephanie teamed up on the project with two of her fellow scholars, Lettice Brown, the MS4 Coordinator for the City of York, and Sally Reynolds, the Digital Marketing Operations Manager for Steinman Communications.  They were joined by Emily Broich, Pennsylvania's Green Infrastructure Project Coordinator at Alliance for the Chesapeake Bay.  The four create a well-rounded and skilled team.
"When it came time to select a project with the Academy, there was no doubt for it to be a project in this park," Stephanie said. "And I became especially excited when Lettice and Sally wanted to join me for their projects as well."
The scholars are working in conjunction with Mountville Borough, who is embarking on a two-phase $400,000 project to enhance the upper stream and western side of the lower stream with funding from a National Fish and Wildlife Foundation grant and a Growing Greener grant through the Department of Environmental Protection.  Part of that project also consists of educating the public about stormwater and local water quality issues, starting with a Community Festival to be held at the Park on October 7 from 10 am to 1 pm.  It will include information from local water resource organizations, a ribbon-cutting ceremony, a food truck from Café 301 and live music from local singer-songwriter David Moyer. 
For their project, the scholars will be creating a 190-foot buffer of native trees and shrubs along the north side of the park.  The natural vegetation helps to prevent runoff onto the adjacent roadway. Guests will be encouraged to "adopt a tree or shrub" that they will plant during the event and commit to a maintenance plan of caring for their tree or shrub over the next three years. 
We are looking forward to seeing the beautiful new park made possible by a community that cares and individuals with a vision.  We'll be following this story as it unfolds.