Never Too Late: Starting an environmental career at 58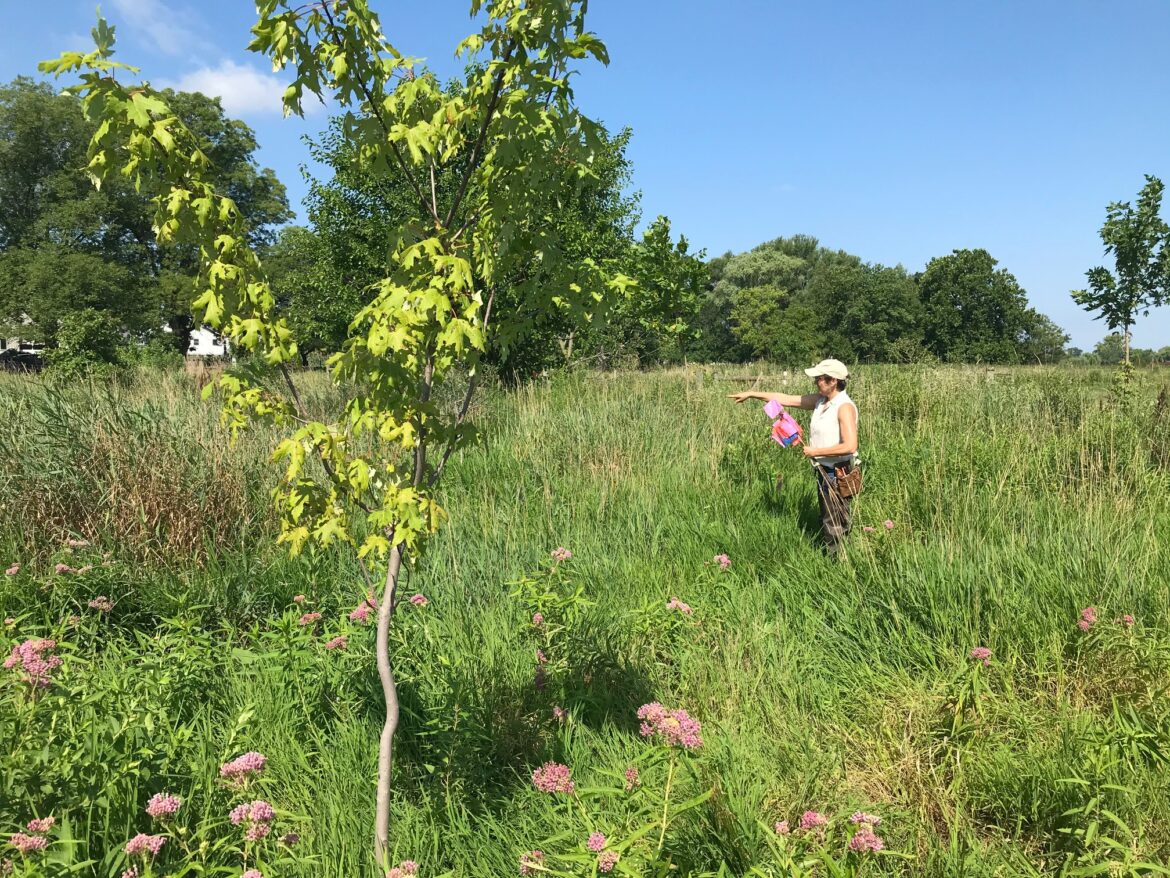 Written by Marcy Hostetler, Lancaster Watershed Leadership Academy scholar.
After 30 years of teaching music in public and private schools and churches, I decided it was time to forge a new path in life. My friends, family, and colleagues asked if I was retiring. No, I'm not retiring, I'd tell them, I'm changing careers. 
You don't hear about many people changing careers at 58. But for me, the idea of working outside and helping the environment was so enticing, I couldn't ignore it. 
What's my next career? I've always enjoyed watching my husband's enthusiasm for his job, working with streams, trees, plants, farmers, and conservation groups at the Stroud Water Research Center. I wanted to become involved in this work, but didn't think it was possible without a science degree. I asked myself, what skills do I have that could be used in this important work?
I started exploring –  native plants, botany, natural sciences – and fell in love. I cherish every aspect, from the butterflies on the milkweed and the bees on the joe pye weed, to adding pollinator plants to buffers.
But along with the beautiful discoveries, I also discovered some disturbing facts about where I live. Lancaster County has the most polluted streams in the entire Chesapeake Bay watershed. Wildlife habitat is disappearing at an alarming rate as new homes and forests are cleared, and the runoff from roads, roofs, farms, and turf (yes, our lawns!) are causing a mess in our streams.
At the beginning of my journey to forge a new path, I felt a bit lost, so I decided to enroll as a scholar in the Lancaster Watershed Leadership Academy, which helps its students hone their skills and define their unique role in leading the effort for healthier watersheds. I'm grateful for this class, which has pushed me to go beyond my comfort zone in an attempt to lead others in real change.
The more I learn, the more I am aware of the urgency of this important work. It is possible to clean up the extremely polluted streams in Lancaster County, but only if we can all come together in this effort. I personally believe that congregations can play an important role in leading the stream cleanup. Many churches have big lawns, which, as they are, have little habitat value and low infiltration rates during rain storms. But they are great canvases for native plantings. Given my connection with the Mennonite Church, I have decided to focus my efforts on working with congregations in this effort.
But even those who are not part of a congregation can contribute in some way. Many others might be surprised at how life-giving it can be.
Here are some ideas that anyone can implement:
Learn what a watershed is and about the conditions of your own watershed.
Volunteer to work on buffers, which includes planting trees but, just as importantly, helping to maintain them.
Become better upstream neighbors: Learn about native and invasive plants. Then take a look at your own yard and see where you could make some changes.
Get your body of faith or congregation, if you belong to one, engaged in becoming a better upstream neighbor.
If you have any questions about my experience or about finding ways to get started, please feel free to contact me at marcellahostetler@gmail.com.