Scholar Spotlight: Wyatt Behringer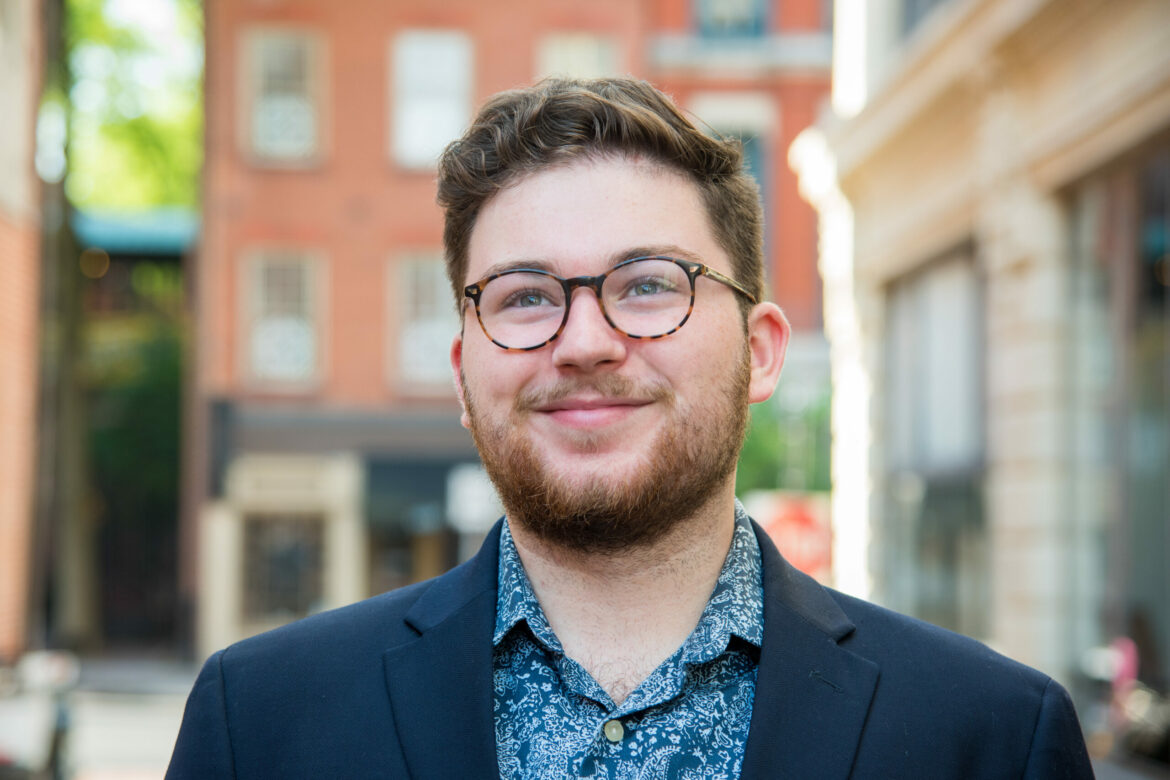 As the Marketing & Communications Manager at the City of Lancaster's Office of Promotion, Wyatt Behringer knows the passion that Lancastrians have for their city and the vibrant, unique communities that call it home. And now, because of the Lancaster Watershed Leadership Academy, he's also learning about the community's dedication to Lancaster's watersheds – how they operate in rural, urban, and suburban areas. After only a few short months in class, Wyatt is inspired by the diverse ways clean water work happens in Lancaster City and throughout the county, while recognizing the need for all of us to do more to be part of the success story.
Wyatt has always been interested in learning more about the environment, but never had the opportunity to study it in a formal setting. At Franklin & Marshall College, he studied American Studies and government, focusing on ways to help people and allow communities to thrive. He sees the Academy as his opportunity to explore water quality topics in a fun, engaging setting. 
"The Academy is my effort to become more educated in environmental and leadership topics so I can feel more comfortable advocating for things I believe in whether personally or in my career. " says Wyatt. "The course will put me in a space I need to push myself. It'll force me to get out of my comfort zone." 
Wyatt believes leadership is something to continuously learn and practice. It's something you need to throw yourself into, he says. He's held several leadership positions since a young age – as a camp counselor and student body president. He also serves on a number of boards and committees, including LEADS, Lancaster Art Family, and the Lancaster Chamber's Thriving Editorial Board. 
"I'm intrigued by what makes a good leader and what calls people to lead. Being able to lead and act is critical to being effective in making positive change," says Wyatt. With the Academy, Wyatt hopes to further hone his leadership skills, which will prove valuable in his current position with the city and throughout his life. 
During the COVID-19 quarantine, Wyatt showed his leadership in action by revamping several in-person events, such as Music Fridays. He and his colleagues came up with Keys on the Move and Porchfest, appropriately distanced music experiences for City residents to enjoy music right at home. 
Leadership is one of Wyatt's interests in the Academy, but also hopes this will be a stepping stone in his career. "I have a lot of ideas of what I could do next – maybe urban planning or green infrastructure work – but the Academy will help me explore and pick a path forward," says Wyatt. 
As Wyatt explores different career paths, he has many examples of exemplary green infrastructure and urban planning work to study throughout the city. Lancaster City is one of the leaders in green infrastructure and stormwater management. In 2018, Lancaster was named an LEED (Leadership in Energy and Environmental Design) Gold City and was recognized for achieving its sustainability and resiliency goals. In 2019, a green infrastructure project along Shelley Road, which was prone to persistent flooding due to insufficient stormwater management, was awarded the 2019 Governor's Award for Environmental Excellence. 
For his Action Project, a clean water initiative that combines the Academy's leadership and watershed curriculum, Wyatt aims to implement something that brings greater awareness to the city's impact on our local watersheds and the importance of being a good steward of our waterways.
"The Academy is my effort to become more educated in environmental and leadership topics so I can feel more comfortable advocating for things I believe in whether personally or in my career. The course will put me in a space I need to push myself. It'll force me to get out of my comfort zone." 
– Wyatt Behringer