Paradise Township Reduces Stormwater Pollution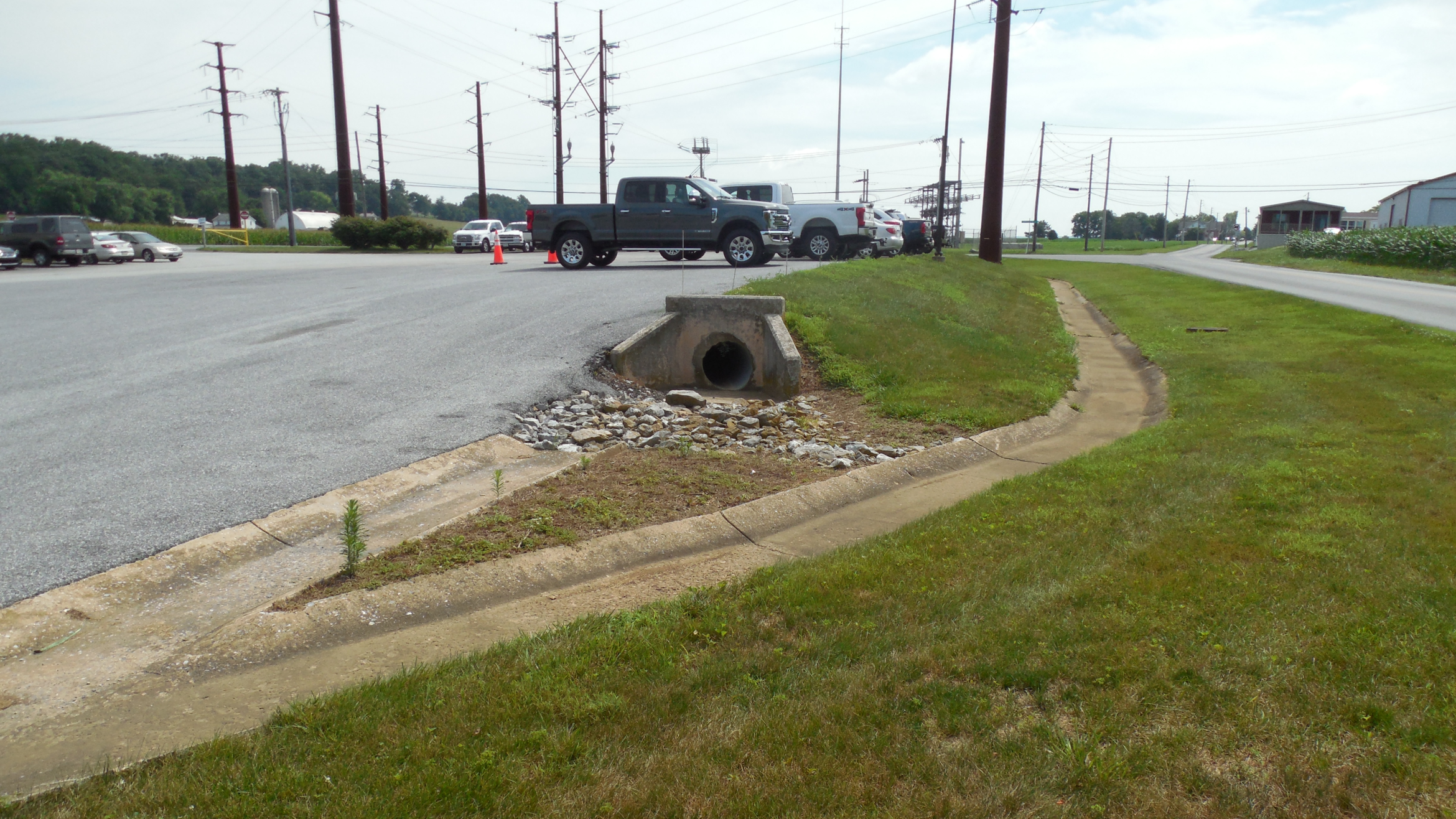 Paradise Township was awarded funds to install a vegetated swale on Vernon Stoltzfus-Kinzers' land to reduce stormwater pollution by converting a concrete-lined swale into a vegetated swale.
Vernon Stoltzfus-Kinzers Property Holdings, LLC, owns a 13-acre property within the urbanized area of Paradise Township in the Pequea Creek Watershed. The property includes a distribution building, driveway, and parking areas for tractor trailers and personal vehicles. Currently, stormwater is managed by a series of inlets, pipes, concrete-lined swales and a large dry detention basin. 
To reduce stormwater pollution, the township will partner with Mr. Stoltzfus to retrofit the concrete-lined swale into a vegetated swale. The swale will include amended soils and be planted with a variety of native perennial flowers and grasses. These improvements will reduce stormwater rates and volumes, increase biodiversity and habitat for native wildlife species. By working with private landowners, the township educates the community on the ecological benefits of stormwater BMPs which is a key component of achieving clean water in a generation. 
"Success for this project looks like sustained partnerships with private landowners and achieving expected water quality goals," says Dennis Groff. "The landowner is currently working on a land development plan to expand the parking area and make improvements to the existing stormwater management detention basin. Working with Paradise Township to retrofit the existing concrete swale was a natural extension of the project and supports the township's water quality efforts."
The project addresses the following CAP priorities:
Stormwater
Vegetated open channel – 11 acres
Stormwater Management – The pollutant reductions achieved by the proposed stormwater BMPs will be credited toward achieving required pollutant reductions identified in Paradise Township's DEP-approved Pollutant Reduction Plan.
Land Use and Preservation
Restore natural resources and restore ecological connections
Expected Reductions
This project will get the township to its required pollutant reductions for its 2018 MS4 permit. Since the township will achieve an excess in pollutant reductions for this term, the excess reductions will also apply to future MS4 requirements.
The calculated pollutant reductions achieved are as follows:
1,308 lbs of nitrogen reduced per year
25 lbs of phosphorus reduced per year
26,320 lbs of sediment reduced per year
Connection to Places2040
Taking Care of What We Have: Incorporating natural areas within urban and suburban communities increases the quality of life. This project improves water quality and demonstrates how partners can work together on stormwater management.
Creating Great Places: Creating great places to live, work, learn, play, and visit provides quality of life and satisfaction with our surroundings. This project makes the community more vibrant, safe, and attractive.
Thinking Beyond Boundaries: Approaching challenges more collaboratively, cultivating leadership and taking our partnerships to the next level accelerate our ability to achieve the goals outlined in Places2040. This project fosters partnerships between public and private entities which is a critical component to achieve clean water goals.
Growing Responsibly: A significant component of improving the pattern of growth is to improve the communities that are already in place so that residents choose to live in established developments. This project will improve environmental conditions, reduce stormwater pollutants, and improve existing development in the urban growth areas.
Partners
Vernon Stoltzfus-Kinzers Property Holdings, LLC.

Pequea Creek Watershed Association