EPA Announces $14.3 million in grants to PA Farmers for Conservation Efforts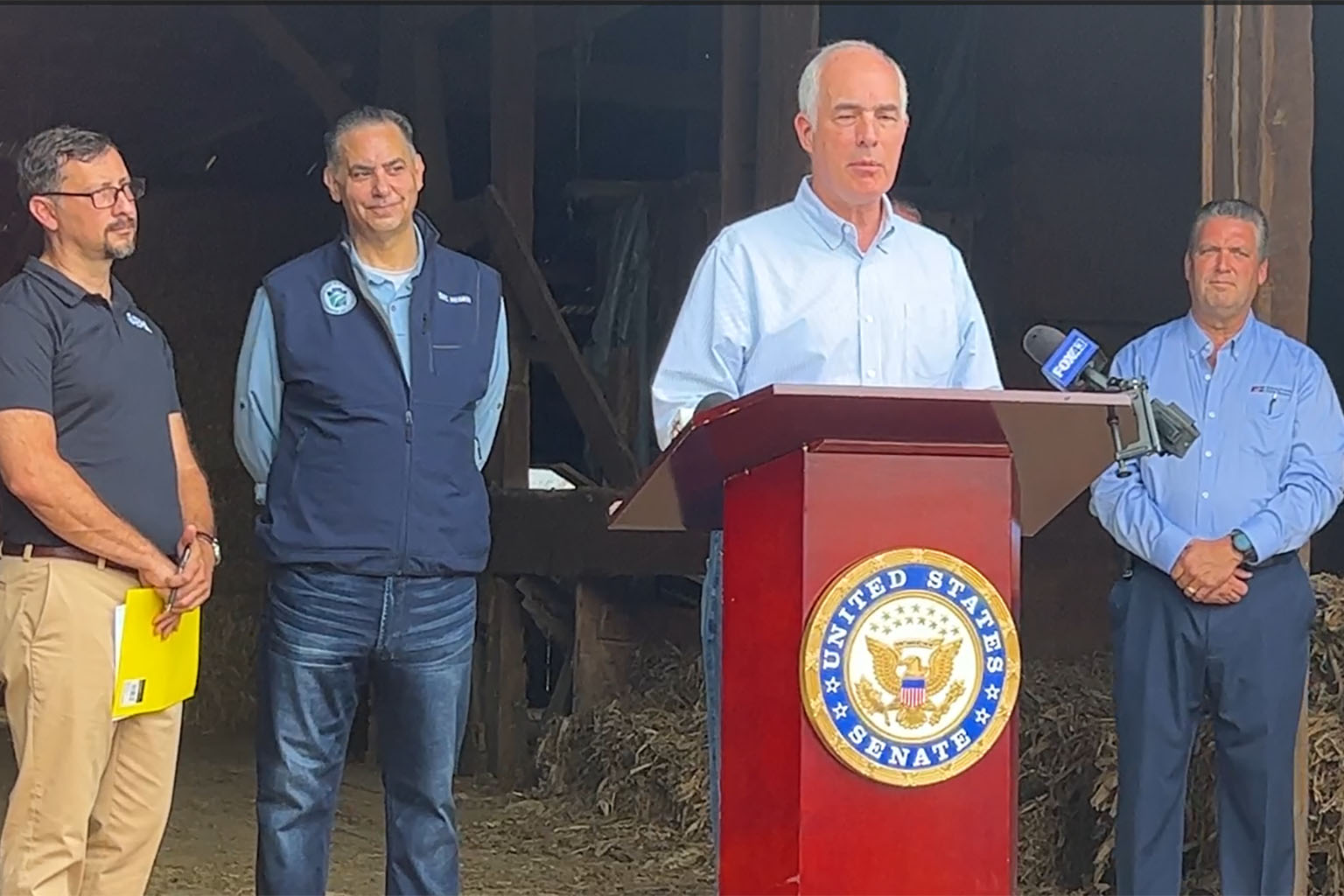 (July 25, 2023)
At an East Lampeter Township dairy farm that had recently undertaken Best Management Practice (BMP) improvements, Senator Bob Casey announced that $14.3 million in grants will be directed to Pennsylvania through EPA's Chesapeake Bay Program.  He was joined by EPA Mid-Atlantic Regional Administrator Adam Ortiz, Senator Scott Martin, Pennsylvania Department of Environmental Protection Secretary Rich Negrin, and Pennsylvania Farm Bureau President Chris Hoffman.
The funding is part of $23 million set aside this year for the EPA's Most Effective Basins program.  The funds will be used to implement BMP's that limit nutrient and sediment runoff, ensuring clean water both here in Lancaster County and downstream to the Chesapeake Bay. 
"This is the largest ever investment by the Federal government to the restoration of our local waters, "Ortiz said.  "That's a big deal." 
"This is money that our farmers will use to bolster their conservation practices to prevent nutrient and sediment runoff from reaching our waterways," said Senator Casey. "This is a good day for our Commonwealth.  This is a good day for farmers here in Lancaster County.  It's also a good day for communities well beyond this one."
Senator Martin spoke about the importance of relationships and communication between the government, local clean water organizations and the farmers who implement the necessary changes to their land.
"Our clean water efforts really center around partnerships," he said.  "We have to listen to the farmers' concerns, convince them that we can help them, explain the resources we have available and let them know they are not alone in these efforts."
The farm where the announcement was made is an example of such a partnership. A roofed manure storage facility to prevent runoff had been constructed and riparian buffers installed along the stream to lower water temperatures and prevent soil erosion. There are additional improvements planned for the future.
To read the press release from the EPA, click here.